The Sad Story Of Venus And Serena Williams | King Richard
What Happened To Venus And Serena Williams?
Venus and Serena Williams have experienced racism on a vast level throughout their career.
Did you ever wonder what stories the news left out?
Or what fuelled the racist attacks (like Indian Wells,) against them?
Or what are Serena and Venus up to now?
Time to find out.
Venus And Serena Williams Before The Fame
Coming straight out of Compton Venus and Serena grew up in one of the most dangerous ghettos in America. In this part of the story, you're gonna learn about what the gangs did while the sisters were playing tennis. They lived with their dad Richard Williams (King Richard), their Mom Oracene Price, and their 4 other sisters. That's 8 people in one house, do you know how many fights for the bathroom there must've been, I'm just saying. Their dad Richard Williams was blown away when he saw tennis star Virginia Ruziki win the French Open. He also saw how much money she made by winning.  Richard started to get into playing tennis and let his family in on it too.
Serena and Venus were way more excited about Tennis than their other sisters. And the world was about to find out. Now being in Compton as a Black kid playing tennis was as rare as a Black Trump supporter with a Black wife.
They'd practice in a park where a whole lotta gang sh*t was going on, while other young white champions practiced at their father's country clubs. The gang activity in that area was so bad that Serena said she would hear gunshots while they playing on that raggedy tennis court. From time to time their dad would even get beaten up in front of his kids while he was trying to coach them on the tennis courts. One gang member beat him so badly that they broke his nose, jaw, and fingers and knocked out a bunch of his teeth. Their dad knew that Compton would be tough to grow up in, but he moved there on purpose to make them tougher. He even said, "[I] wear my 'toothlessness' as a badge of courage."
However, one gang incident would sadly change their lives forever.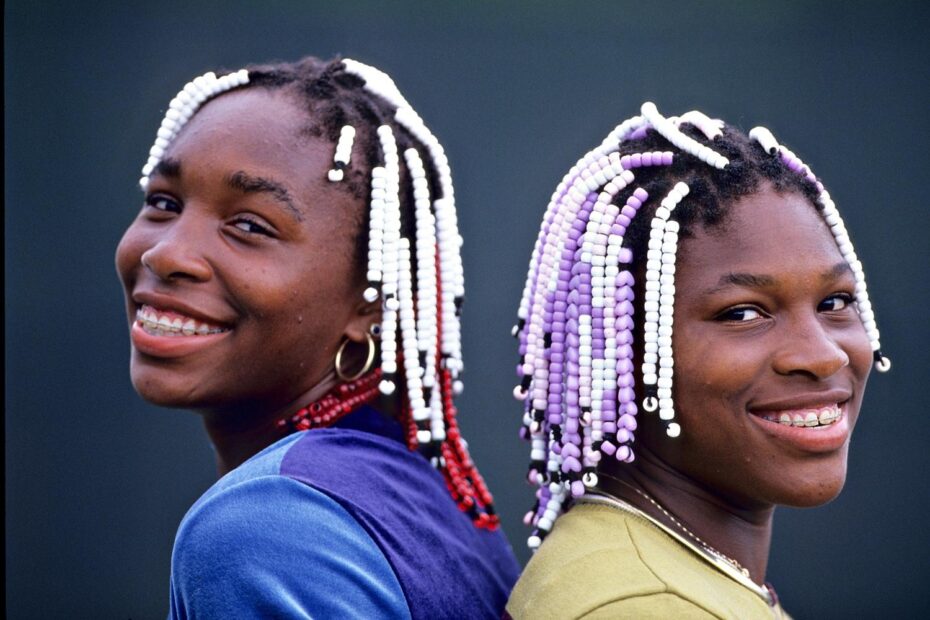 Serena, and Venus as well as their other sister Isha would practice every day, even during thunderstorms. Isha said Richard made them practice at 6 am, then go to school, and practice again after school. Isha later stopped playing because of a back injury, but Seran and Venus were still at it. 
They got so good that they ended up joining the Junior tennis association. When they joined they were met with a lot of stares and angry faces from the extremely white crowd at Junior Tennis. These girls didn't let that scare them off because Venus ended up winning every single game she was 63 and 0 with the number 1 spot. Serena would follow after being 46 and 3 and ranking in the top 10. Serena actually signed herself up for the tennis matches, without her father knowing. She was tired of living under her older sister's shadow and wanted to get some fun time on the court as well. So she took it into her own hands.
In Compton, the gangs would start surrounding the court to protect them now. However, though they had respect on the streets, they were about to face a different threat, which was a level of racism that would shake their bones. 
Pay attention to this part.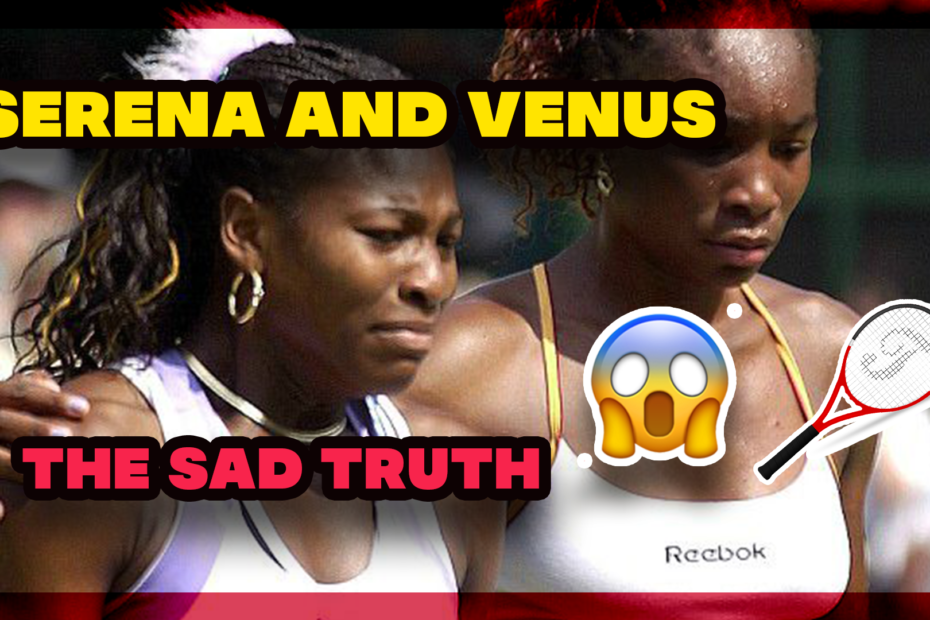 Fame And Racism: Indian Wells
As their careers grew these kids soon moved to Florida in a much nicer area. They started getting trained by legendary Tennis coach Rick Macci, who told their dad that they're the next Michael Jordan, but in tennis the world obviously.
Companies started paying them the big bucks. Guess how much money 15-year-old Venus was offered by Reebok. I'll share it with you towards the end. Their fame grew and unlike many of their peers, they were actually at celebrity status. A big reason for them reaching celebrity status wasn't only based on their skills, it was also based on the racism they'd face. 
They'd been called gorillas, men, and the media would spread lies that Serena could only get that strong if she was taking steroids leading Serena to be tested for drugs twice as much as her peers. She responded to the haters by saying "I just work hard and I'm proud of this badass body." However, the 2001 Indian Wells tournament was one that opened their eyes to another level of racism being thrown at them.
At the time Venus was suffering from a knee injury due to tendinitis, because of this, she decided to drop out of the tournament. In the tournament, she was supposed to go up against her sister Serena. Venus would play Serena would go against each other many times throughout her career, but that day was not the day and that racist crowd was not trying to hear it. They wanted Venus to play anyway.  So when Serena entered the stadium she was booed and called ni**er by a stadium of racist white people.  She wasn't even the one with the injury but the crowd was convinced that they were cheating so that Serena could win.
It gets even worse. When Venus and their dad Richard Williams (King Richard) entered the stadium, Richard said "When Venus and I were walking down the stairs to our seats, people kept calling me ni**er. One guy said, 'I wish it was '1975; we'd skin you alive.' He also said that he was struggling to hold back tears. Richard dealt with racism all his life, he grew up in one of the most racist states in America, Louisiana. He would run from the KKK many times as a kid growing up, so for him and his family to face that, was traumatizing. You can see their pain here. I mean honestly, how would you have handled that situation? I don't know if I'd be able to keep my cool like that.
Serena ended up beating her opponent Kim Clijsters and also winning the whole tournament. After that game, the sisters said they'd never play at Indian Wells again. Serena said "It was so hard," "I'll never forget driving back, and my sister Yetunde was there, and I remember just getting in the car and I was just bawling. I was at the gas station, there was no celebration, I was just crying and crying and crying."
The sisters didn't return for over a decade and in the next section, ill tell you what happened when they did return. Also if you wanted to read Serena's book, watch the King Richards Film or grab some Williams merch then I listed all of that in the gifts link below. Check it out.
Venus And Serena Williams: Community Heroes
After that event, the sisters grew to become one of the best tennis players in history. Venus Williams won 7 grand slams and was ranked number one.  Serena won 4 Olympic gold medals, every major tennis tournament, 23 grand slams, and became the oldest female tennis player to be ranked number one.
Serena is known for fighting for gender and racial equality. One time she wore a Wakanda-inspired sports bodysuit made by Virgil Abloh and Nike to a French Open match. It was made to support her health condition to prevent blood clots but the French Open banned her from wearing it because it wasn't feminine enough. So switched it for a tutu. It was a way to laugh at them and also say she can be a beast on the court no matter what she wears.
There was one huge setback that hit the family deeply. One day in Compton older sister Yetunda was out with her boyfriend when a Compton Crip gang did a drive-by shooting on her. The shooter thought that she was with a rival gang member but he was wrong, she was just in the car with her boyfriend, so he ended up killing her for no reason. The killer was sentenced to only 15 years in prison and was released early on good behavior.
They honor Yetunde in the movie King Richard and also talk about how much of a light in their lives she was. The King Richard movie is amazing, I cried throughout that whole thing and if you want to watch it you can find the link in the gift section in my bio. Will Smith recently won an Oscar for the film so trust me it's one to see.
After that Serena's matches took a downfall, but eventually she would come back on top and even returned to Indian wells after a 14year boycott. She was greeted with love this time and even received a standing ovation. She said that she saw so many kids and Black kids. One of them had a sign that read Straight out of Compton. She realized that she was a voice for these kids and now she continues to be a voice for the people. 
If you didn't know this earlier then now you know and you can spread the word. My next post will blow your mind so get ready! 
And if you're wondering how much Venus' Reebok deal was then here's your answer. It was a 5-year contract for 12 million dollars. This deal came shortly after the one she denied which was her first offer for 3 million from Nike.
Thank you so much for reading and feel free to share it with anyone that might want to learn something new and important.
Treat yourself to an item at my store.
Please follow and like us: